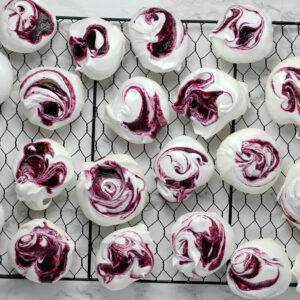 Raspberry Meringues
This recipe comes to us from SoFabFood and was remixed to include Rader Products. Check them out for more great recipes.
Instructions
In a large mixing bowl, beat egg whites, cream of tartar, and salt until light and foamy in your mixer with the whisk attachment.

Turn your mixer to low, and slowly add the white sugar a bit at a time, making sure it's completely incorporated.

Add the vanilla and almond extract, and continue to beat until the meringue is very stiff and glossy. Should keep shape. Stir to make sure that all of the meringue is of the same, stiff consistency.

Pour your raspberry puree on top of the meringue, Don't mix in.

Spoon dollop of the meringue on top of a parchment paper covered baking sheet, or use a piping bag and tip.

Bake for 45-55 minutes, switching the baking sheets around after 25 minutes.

Once the time is up, keep the oven door closed and turn off the heat. Let them rest for at least 30 minutes inside the oven. Depending on how humid your kitchen is, you may have to leave them in the oven overnight.

You'll know they are finished when they are no longer sticky, and will easily lift off the parchment paper.