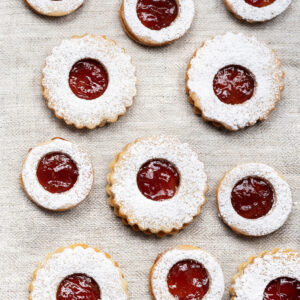 Raspberry Jam Sandwhiches
This recipe is from Saveur and was remixed to use Rader Foods products
Instructions
Beat butter and sugar with a mixer until fluffy.

Add vanilla and egg; beat

Transfer dough to a floured surface, form into a disk, roll until 1⁄4" thick

Using a 2" fluted round cutter, cut out cookies and transfer to parchment paper-lined baking sheets, spaced apart.

Chill for about 30 minutes.

Using a 1 1⁄4" plain round cutter, cut out centers of half the cookies; discard centers.

Bake cookies until lightly browned, 10-12 minutes; cool.

Dust cookie rings with confectioners' sugar.

Place 1 tsp. jam in center of each whole cookie; spread to within 1⁄3″ of edge

Top each with a cookie ring.