Coconut Panna Cotta with Key Lime Gelee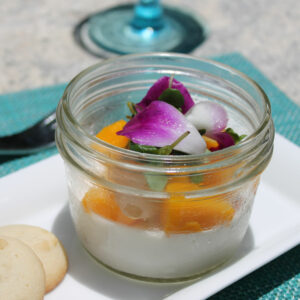 Coconut Panna Cotta with Key Lime Gelee
This recipe comes to us from our own Sales Rep Rodney
Instructions
To Make Gelatin Mass
Bloom the gelatin by sprinkling the gelatin powder on top of the cold water, let it sit for 5 min.

Then bring gelatin and water mixture to a boil until completely melted then chill it until set.
To Make Panna Cotta
On a pot combine the coconut puree, milk, sugar, agar and gelatin mass.  Bring it to a boil and stir until agar and sugar are dissolved.

Off the heat add vanilla and rum

Pour in jars and chill until set firm.
To Make Key Lime Gelee
Bring to a boil the key lime, water, sugar and gelatin mass, stir. 

Make sure sugar and gelatin mass are  dissolved. 

Add the key lime zest off the heat.

Pour in a container chill to set.
Assembly
Top your pannacotta with the key lime gelèe and diced mangoes and passion fruit or any seasonal fruit.  Decorate with micro greens or any other decoration of your choice