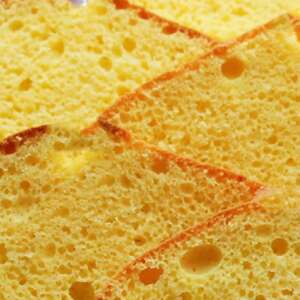 Whole Wheat Mango Cake
This recipe is from Veg Recipes of India and was remixed to include Rader Products. Check them out for more great recipes.
Equipment
whisk

loaf pan

oven

bowls

spatulas

mixer
Ingredients
Ingredients for Mango Cake
1.5

cups

whole wheat flour

leveled or 180 grams of

1

tsp

baking powder

½

tsp

baking soda

100

grams

unsalted butter

or ½ cup chopped chilled butter

¾

cup

sweetened condensed milk

1

cup

mango puree

3

tbsp

sugar

1

tsp

vanilla extract
Mousse Icing
⅓

cup

mango puree

½

cup

whipping cream

2½

tbsp

honey or icing sugar
Instructions
Prep for mango cake
Seive 1.5 cups whole wheat flour/atta, 1 tsp baking powder and 1/2 tsp baking soda in a bowl or plate. Keep the seived dry ingredients aside.

Grease a loaf pan measuring 8.5 x 4.5 x 2.5 inches with butter or oil and keep aside. You can also use a round pan of 7 or 7.5 inches diameter.

Blend Mango puree to a smooth puree. Keep the puree aside.

Also preheat your oven at 180 degrees celsius/350 degrees fahrenheit 15 minutes before you start baking. For baking in the convection mode of the microwave oven, use 170 degrees celsius/330 degrees fahrenheit as the preheat temperature.
Making Mango Cake Batter
Take 100 grams unsalted butter or 1/2 cup chopped butter in a pan.

Keep the pan on a stove top and on a low heat melt the butter.

Just melt the butter. No need to heat the butter. Stir so that the butter melts quickly.

Keep the pan down once the butter has melted. Add 3/4 cup sweetened condensed milk. Condensed milk added is about 1/2 a tin or can of condensed milk measuring 400 grams.

Begin to stir very well with a wired or balloon whisk.

Whisk very well to make a smooth homogeneous mixture.

Now add the mango puree and 1 tsp vanilla extract. You can also add 1/2 tsp cardamom powder or 1/4 tsp cinnamon powder or 1/2 tsp mango essence or extract instead of vanilla extract.

Stir again very well to get a smooth even mixture. Add the flour.

With light hands, gently fold the mixture with a spatula. Avoid folding too much.

The cake batter should have volume and should not fall flat or become doughy like chapati atta.Depending on the quality of flour, you might get a thick batter like I have got. This much thickness is fine.

But if the mango cake batter looks very thick, then do add some tablespoons of milk. Also mango puree made at home is usually thick. If you use store bought mango puree, then the batter will be slightly on the thinner side.

With the spatula add the batter to the loaf pan.

Shake the pan to even the batter from the sides. Also with the spatula even the batter from the top.
Baking Mango Cake
Place the loaf pan in the preheated oven at 180 degrees celsius/350 degrees fahrenheit. Bake the cake for 40 to 50 minutes.

If top starts to get browned, then cover with foil or butter paper and continue to bake the mango cake. Depending on the temperature conditions in your oven, it make take less or more time.

The final check is a golden crust and a tooth pick or wooden skewer coming out clean.

For baking in the convection mode of a microwave oven, use the temperature of 170 degrees celsius/330 degrees fahrenheit. Again the baking time will vary in the convection mode of your microwave oven.

When the cake becomes warm, remove from the pan and allow it cool on a wire rack. Slice the mango cake and serve when cooled. You can also frost the cake with your favorite icing if you want.
Mango Mousse Icing (optional)
Take 1/2 cup whipping cream or 25% to 35% low fat cream in a mixing bowl along with 2 to 3 tbsp honey or icing sugar. Begin to whip the cream on a high speed.Whip till soft peaks.

Then add 1/3 cup mango puree. On the lowest speed blend for some seconds till every thing is mixed well. Keep in the fridge till the cake cools down.

When the cake cools down completely, slice carefully into equal halves. Brush some sugar syrup (1 tsp sugar dissolved in 3 to 4 tsp water) on the halved cake.

Spread the mango mousse evenly, and cover with the remaining half of the mango cake. Brush some sugar syrup on top of the cake half. Then again spread the top and sides with the remaining mango mousse frosting.

With a spatula even the mousse frosting from the top. Cover mango cake without touching the sides and edges with a large bowl and keep in the fridge till the mousse sets.

Once done slice and then serve the eggless mango cake with mango mousse frosting.
Notes
Recipe adapted from original