Mother's Day Special- Sweet Talk with SarahLu and her Mother Yilena
**Sarah and her mother were interviewed separately, but you will see that these two are more than mother, daughter. Take a read and see how well they know one another and how the love of baking has brought them many adventures.
A Conversation with Sarah (Daughter)
How did you get into baking?
I started baking because growing up, my family was in the industry, like old chefs. So when I was growing up, I remember going to the restaurant that my aunt was the chef at, and I was in the kitchen all the time. I would see all the different parts of the restaurant where they did the savory food and the parts where they did the sushi and all that stuff. I always loved eating desserts, first of all, and I always love the artistic part of it and how beautiful things look. But I also very disliked the raw chicken and the raw foods.
I always knew I liked the kitchen, but I was like, okay, I'm never going to be a savory chef because I really don't like this. I've always been very into, painting and art and all that stuff. So I think pastry is an art medium.
..and I love eating.
What is Your favorite dessert?
I think my favorite dessert is ice cream. That's good. Yeah, definitely a simple, nice dessert.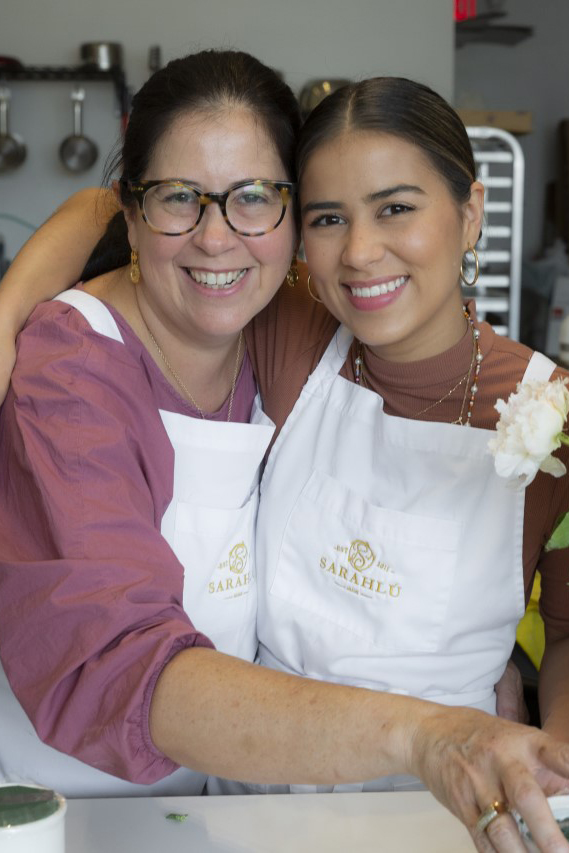 How has your mother influenced your baking?
You may not know but my mom is an interior designer, a florist and an event planner. So she is in the same industry as me but a bit different. Growing up I remember when she had a wedding or when she had an event, I would go with her and help her set up the event. Also as a child I would get to see the dessert tables and all that stuff. To me, that was really fascinating. I think she's definitely influenced my cake decorating a lot, because from a very young age, I was exposed to flowers, and so I got to learn about flowers, and about arranging flowers. I think that's the main reason why one of my favorite things to do is sugar flowers. For example, a lot of times I make cakes, I love making them with sugar flowers. I love painting them. I love arranging them on cakes. And I think that's definitely because of my mom.
We've heard and seen sometimes your mom comes and helps at your bakery. How is that working side by side with her?
I think it's a blessing, honestly, because she doesn't live in Miami she is in Dominican Republic. So she essentially just comes and goes. I get to be with her, and I can kind of pick her brain. Creatively speaking it's just very inspiring for me because she's like a super artist. And so all the time, having her here not only is good because obviously you have extra hands and she's always very meticulous, and she tries to do everything as best as possible. But I think she's also always encouraging me to do things a little differently. And it's a different perspective because, yes, I have the artistic perspective, too, but I'm always more chef oriented as opposed to her, because she just cares a lot about the beauty of it. That's what she is. She's a decorator. So I've definitely learned a lot of things from her, and I've been super thankful that she's here. It's funny because she's actually learned how to make stuff here. Like, before she would cook, but she wouldn't make this much. And now here in the bakery, she's learned how to make pavlova and other different things.
What were some of your favorite dishes from your mother growing up?
It was actually a British dish. She made this filet with coriander seeds, and red wine sauce. And then there was this rice that had mushrooms and parmesan cheese on top. It was so good. Whenever she made that, I was like, okay, it's a celebration.
As far as desserts, she used to make a baked coconut dessert. It was a simple dish and not super elaborate, Essentially it was shredded coconut, condensed milk, eggs and other things. I don't remember what else. She was the one making it back then and it was just really good. We would also get it with ice cream or something like that and it was just so good and delicious.
Working with your mother in the kitchen I'm sure you have some funny stories?
One time she was mixing and I told her whenever you turn on the machine remember to put it on the first speed and don't put all the dry ingredients in all at once or it will fly in your face. So she forgot, and everything went all over.
Some Of SarahLu's amazing desserts!
Any others?
Yes of course! I remember one time it was Valentine's day and it was my best friend's wedding in the Dominican Republic and I had to leave to head there and so my mom stayed here in Miami taking care of the bakery and everything and we had a ton of stuff to do. Funny enough that's when she learned how to make a pavlova because she had no choice since I left. So she was in charge of making it and for some reason it wasn't coming out. I don't know what was happening. I don't know what she was doing but she just made it like five different times until it came out good. She was super frustrated with it. The funny part about it is that I remember she would never tell me anything. She never said that she was struggling so much. She just said, "oh, yeah, everything's going very well". After I came back she tells me the story and I'm like, "Oh, my God". So she mastered it and learned how to perfect it. Now she is selling it in Dominican Republic and it's super popular over there.
How has Rader Foods inspired you as a chef??
So I think one of the most beautiful things about Rader Foods besides the amazing selection of products you all have would be their culture and company values. I remember when I first started I was making desserts out of my house and didn't have a physical bakery yet. Rader was the first to open their doors to me. I remember talking to Brett Rayon first who I had told him I need ingredients and I don't know what to do I can't keep paying these crazy prices but I need to buy it wholesale. Brett simply said" I got the perfect person for you and introduced me to Rodney. Rodney was super helpful and the sweetest person ever. Rader opened an account for me and really helped me out and supported me on different events i had, and even introduced me to other chefs.
To me personally the fact that this company put their trust in me and supported a young chef that was just starting. To me that says a lot. It shows a lot about what the company believes in and what's the core of why you do things. This shows me and others that Rader Foods is not just here to make money but they are here because they believe in their Pastry Chefs and believe in the Industry. Everyone in the company is so helpful, from Rachel to even the drivers. For me, that's priceless.
A Conversation with Yilena (Mom)
How is it seeing your daughter as a baker?
Sarah Lucia is an artist. Since she was very young she loves to observe everything around her specially things related to creativity and the process of doing. Always looking for the beauty and the best way to accomplish whatever she had on her daily duties, asking how to do things a great listener and interpreter.It could be at home, at school, baking or afternoon classes ballet, painting, english or Italian classes. She is always attentive and open for  suggestions and ideas as and artist very respectful to the environment and very eager to learn all the time. She demands a lot from herself as she expected from people around her for the wellness of everybody.
Does  your daughter use any of your tricks of the trade?
Of course Sarah had received from us much influence she comes from  a family of professionals designers, engineers, architects, chefs her grand parents share the love for literature, music and also painting. Her great grand parents  were chefs.
What is your favorite dessert?
Sarahlu's butter cake
I asked Sarah what her favorite dish of yours was while she was growing up, can you guess what it was?
I think a special rice with corn and laurel, filetico de cerdo with Laurel also, potato salad with beets, apples and carrots . Toasted casabe & avocado.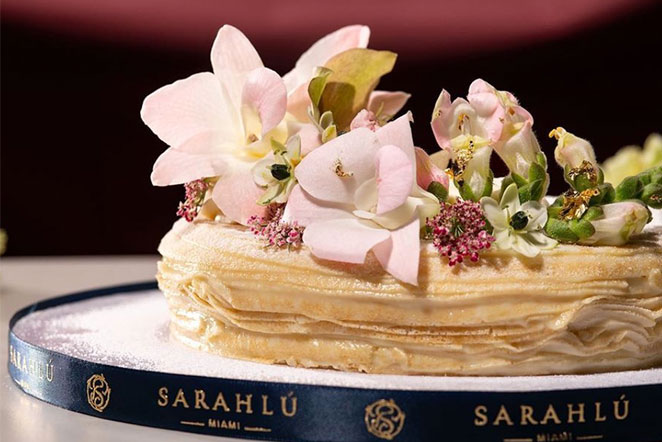 A Dessert Dedicated to Grandma
Inspired by Sarah's grandmother, Lea Dixiana Cancel de Sánchez.
Did your mother bake or cook when you were growing up?
My mother was a great cook from starters as tostones with melted cheese and tomatoes with lemonade. Toasted sandwichitos with salami and GEO cheese inside Pan de Agua. With melon and lemon juice. To the best marvelous dinners pernil with agrio de naranja filled with olivas and oregano. Unforgettable turkeys. Thanksgiving Dulce frio. Special ice creams served inside an orange peel concha with cherry top and azahar leaf.
What are your favorite dessert flavor combinations?
Dark chocolate with salt caramel. Orange blossom, and frutas del bosque.
You often help Sarah in her bakery I am told. How has it been working alongside her?
I usually help her for special occasions Christmas, Valentines, easter, Mother's Day, and Thanksgiving.Helping her with the window decor and special packaging of products. Sarah is a magnificent teacher, always looking for high standards in every execution from A to Z, impressively curious for each detail  packaging included. The most important things she cares about are the team and each person around from suppliers, clients, family always respectful and inclusive.
Do you have any funny stories from times you have worked with your daughter? 
Well, once Sarah asked me to stay at the bakery she had to travel and she left everything ready and organized but clients started calling and placing orders of pavlovas and there were 4 left only, so I was so afraid because I made them like 3 times before she left and people continue asking for more I took the decision accepting 12 orders so it was challenging for me  because it takes a lot from me and I started crying until I felt safe baking them so I made like 20 pavlovas the first 6 were a big mess, over cooked, then I threw them away. Now since February 2021 I have been baking pavlovas in Santo Domingo with Sarahlu standards and is the best thing that happened to me. After this situation in Miami, it turns out to be one of my greatest pleasures to prepare them for my clients in DR.
So one last question, what is your favorite dessert to bake?
Pavlovas!!!!!