Sweet Talk with Chef Karina
What inspired you to become a professional pastry chef?
I think it has always been in me. Since I was a little kid, I remember that I really enjoyed, watching my mom and my grandma baking pies and cakes. And I remember that, when I ate them, I felt happy. So I started helping them and I felt more happy while helping them. Yeah, I always knew that it was something that I wanted to do and was something that brought me joy. I always feel happy while baking.
When I started growing up, my mom and I went to classes, you know, like cookies and cakes. And then when I was in high school, I started taking a Diploma course, to see if that's actually something that I really liked. Because, you know when you think about it, it sounds really beautiful, but I wanted to see if I really liked being in a kitchen, and I did, and I fell even more in love.
When did you come to the US?
After I graduated I worked on a cruise ship for one year. then in 2013, I came to Miami.
Where did you study to get your degree?
In a university in Mexico City. When I graduated, I started the culinary arts degree, because, in Mexico, there's no specialty degree for pastry. There are only like small deployments or like courses of one year or less.
What do you like in the pastry field that you cannot find in other culinary fields?
I also love cooking. I really enjoy it. But my real passion is pastry. I mean, pastry is where I belong. And I feel more myself. I feel that I spend, like, hours and hours doing that. And I, don't get bored or tired. Yeah, I feel that I can be more creative. I know that in the savory field you can also be really creative. But believe me that I feel that I can be as creative as I can be, almost like a child. I feel like I can be a kid again when I work in pastry.
Is there any tool that you cant't bake without?
So, I'm a pastry chef, and my stand mixer always makes my life much easier. So I really like my stand mixer. Also my hand blender. I think those two are the tools that I really, really love.
Do you do a lot of cooking at home as well?
Right now I do all my videos at home. I teach my online classes through in my house as well. And right now I'm doing consulting and I'm also teaching one on one classes but because of COVID You know that has changed a little bit so I use Zoom.
Have you ever had a memorable /funny disaster in the kitchen?
Well, of course us all being pastry cooks we have all been covered in flour, because we started the machine on a high speed. One time I was trying to scoop the flour, but it was kind of stiff and when I like finally was able to scoop it, Oh everything flew in my face.
A Few Ingredients Karina Uses
We know that you bake a lot with deZaan cocoa powders. What is it about these ingredients that make use worth while?
I feel challenged by using cocoa and this style of cocoa powder because they are so different, they challenge me to make something that can bring the best out of each product. So every time that I use one cocoa powder, I try to really understand the one that I'm using so that I can bring the best to whatever I'm doing, you know? It can highlight both the products the cocoa powder and the actual dessert. So I think that's what I enjoy the most. Also by trying the cocoa powders, and by understanding them I now feel more confident making more desserts with them.
Do you have any favorite flavor combinations?
I like salt. I love adding salt into my desserts. I think the salt balances a lot of the sweetness of my desserts. I love a lot of salted caramel because of that same reason. I think that probably is one of my favorite combinations
What is your favorite dessert to bake?
Macarons!
How has Rader been able to inspire you as a pastry chef.
So of course, by offering such an amazing range of products, high quality products, each really opens your possibilities, right? Sometimes you're looking for inspiration. And then you're looking through the catalog and you find out that they're offering something that not everybody has, or something that you have never seen. And then I think that's really nice when you're looking for inspiration. But also, it's really nice to know that there's a company that offers really high quality products that are going to help you accomplish what you want to offer. And of course, the service that they give is amazing. I have been working with Sales Rep Rodney for years now. And it's nice to know that sometimes you're in trouble and you need something that you didn't know you needed, and then you reach out to Rader is always willing to help. It's nice to know you're talking to a real company one that cares about us.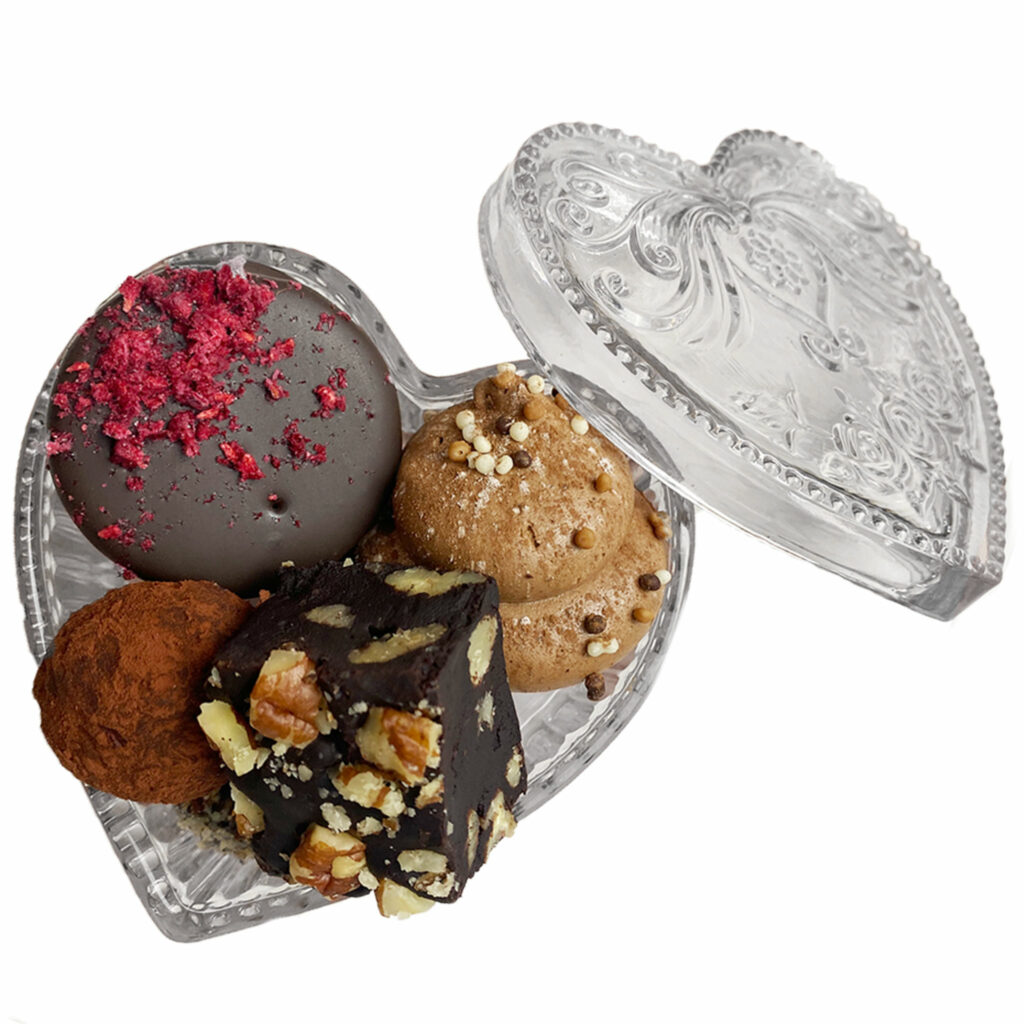 Recipes using deZaan Chocolate
Click below on the various desserts to download a recipe.