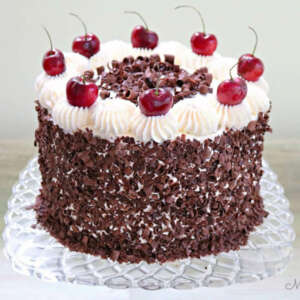 Black Forest Cake
This beautiful twist on a classic is provided from our very own sales rep Beverly!! If you whip it up be sure to let us know!!
Ingredients
Topping
1

qt

Heavy Cream

4

oz

Powdered sugar
Instructions
Chocolate Cake
Follow Komplet Cream. Cake instructions on bag

Thaw and drain the Ravi, Morello IQF Cherries. Then soak them over night in the Ravel, Kirsch Cherry Liquor.

Make a batch of chocolate cream cake mix, let cool. Then split into 1/3rds.

Boil together the water and sugar to make a simple syrup.

Ravel Kirsch Cherry Liquor 1/3 cup. Add to simple syrup.
Assembly
Brush cakes with simple syrup.

With a mixer whip together to make whipped cream the, Heavy Cream, Powdered Sugar, Whipped Cream Stabilizer, and ½ Tablespoon Ravel Kirsch Cherry Liquor.

Top each layer with a small amount of whipped cream, then add soaked cherries, till all three layers are filled. Top the sides and top of cake with remaining whipped cream. Cover and decorate the sides and top with Mona Lisa semi sweet dark curled shavings.